I did this survey a few days ago, and then found it again and realized that some women do it everyday and that it is called The Simple Woman's Daybook. And here I thought it was just an internet meme. Because I like it so much, I think I'm going to start my week with it every Monday. Yes, I know it's Tuesday, but I was driving home from my Mom's yesterday so I don't count it as an actual "week day".
I think the reason I like this so much is because it seems so... gentle. You know? There seem to be so many loud things around and so much busyness and so much crassness (oftentimes from myself :) ), that it is nice to take a step back and do something gentle. So, Monday's are my gentle days. Except for this week. This week Tuesday is my gentle day.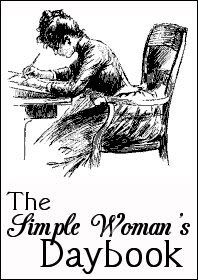 For Today... November 18, 2008 (Happy Birthday, Pappaw!)

Outside my Window... a brisk morning but sunny morning. Kindof my favorite.

I am thinking... that Little David running around the house singing "Bob Builder Yes I CAN" is hilarious.

From the learning rooms... We're learning about fish this week. We went to the library yesterday and I asked Tot what she wanted to learn about and she said "Fish." So, we checked out a bazillion books on fish and a movie about fish. We also got a lot of books about Thanksgiving that we'll be reading next week.

I am thankful for... a God who has lifted me out of a pervasive funk.

From the kitchen... quesadillas for lunch and breakfast for dinner! Yum!

I am reading... Mary Pride's Complete Guide To Getting Started in Homeschooling; Small Changes for a Better Life by Elizabeth George (LOVE her); and Feeding The Whole Family: Cooking With Whole Foods. Yes, I know. I'm a dork.

I am hoping... that Walmart has good, cheap house shoes for the kids. It's getting chilly here!

I am creating... some cute Christmas gifts.

I am hearing... Little David stealing Tot's snack. "Tay-yers Food! Yummy Yummy!"

Around the house... The kids are watching "Sid the Science Kid" and I'm finishing up my interneting until naptime. We're about to load up and go to Walmart to get some house shoes and some fleece blankets for the kid's beds.

One of my favorite things... Dave's crazy warm pajama pants. I'm totally stealing them.

A few plans for the rest of the week... We're having a pretty calm week here. We've got school, cleaning up the house, doing a little Christmas shopping, and this weekend I'm getting my hair cut (finally!) and we're going to a going away party for our friends, Josh & Diana. If there were any way I could get my self to see Twilight for opening weekend, you better believe I would. I'm just not seeing a way.....hmmmm.....


Here is a picture thought I am sharing with you... Taylor has leaned to take pictures of herself, just like her Mommy. I'm so proud.
Quote For The Week:
Yes, there is a place for taking care of yourself. [...] You fail to exercise...so your back goes out or you find yourself trying to function in a depressed, defeated, discouraged, lifeless state. You fail to watch what you eat...so you lack energy or develop high blood pressure. You fail to get your necessary sleep (there's the TV, Internet, and hobby time again!)...so you can't get up, get going, or get it together the next day. You fail to practice discipline in the pills you take or the caffeine you ingest...so you are unpredictable, unreliable, and unstable causing the others in your life (and the quality of your own life...your better life!) to suffer. You fail to take your vitamin supplements or prescribed medications and to drink enough water... so you lack the vitality and health needed in your daily life of service to God and others. I'm sure you're getting the picture.

- Elizabeth George Telling Me To Get My Butt In Gear in

Small Changes For A Better Life.